Why am I unable to link an outside account to Wealthfront?
If you're having trouble linking an external account, please check the following:
Is the web address listed in the search box the same address you use when logging in normally? You can verify this by clicking the url within the search box. See below: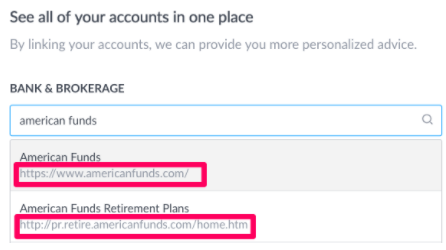 Is the username and password you're entering the same username and password you use typically? Verify this by logging in directly to your bank or brokerage on their website.
Is multi-factor authentication (also known as two-factor authentication) turned on with your account? If so, you might not be able to link the account unless you turn it off.
Nothing in this blog should be construed as tax advice, a solicitation or offer, or recommendation, to buy or sell any security. Financial advisory services are only provided to investors who become Wealthfront Inc. clients pursuant to a written agreement, which investors are urged to read carefully, that is available at www.wealthfront.com. All securities involve risk and may result in some loss. For more information please visit www.wealthfront.com or see our Full Disclosure. While the data Wealthfront uses from third parties is believed to be reliable, Wealthfront does not guarantee the accuracy of the information.