How do I link an outside account to Wealthfront?
To link your outside bank or brokerage accounts, simply log into Wealthfront and click "Link an Account" (screenshot below) on your dashboard. Why should I link an account?

You can then choose from the most popular institutions (listed with icons) or search for your institution. We currently support linking at over 13,000 institutions.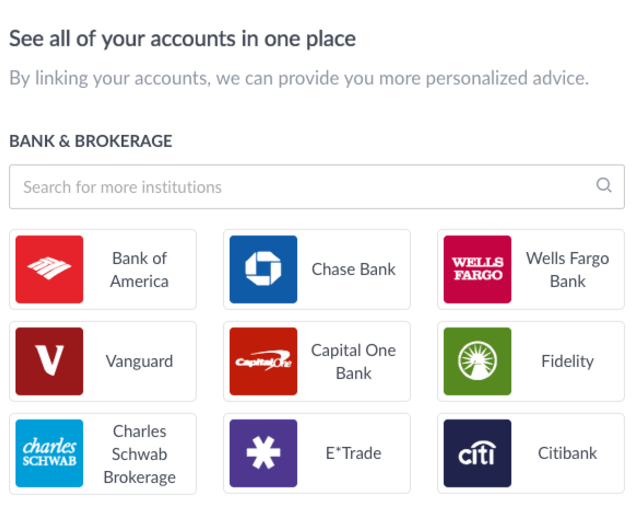 Once you select your institution, you'll be prompted to enter your username and password with that bank or brokerage, and we'll then link to your account. Your security is important to us. We use bank level security to keep your account safe. Linking does not allow Wealthfront to manage or transfer assets in your linked account. 
This communication has been prepared solely for informational purposes only. Nothing in this communication should be construed as an offer, recommendation, or solicitation to buy or sell any security or a financial product. Any links provided to other server sites are offered as a matter of convenience and are not intended to imply that Wealthfront or its affiliates endorses, sponsors, promotes and/or is affiliated with the owners of or participants in those sites, or endorses any information contained on those sites, unless expressly stated otherwise.
Wealthfront offers a free software-based financial advice engine that delivers automated financial planning tools to help users achieve better outcomes. Investment management and advisory services are provided by Wealthfront Advisers LLC, an SEC registered investment adviser, and brokerage related products are provided by Wealthfront Brokerage LLC, a member of FINRA/SIPC.
Wealthfront, Wealthfront Advisers and Wealthfront Brokerage are wholly owned subsidiaries of Wealthfront Corporation.
© 2020 Wealthfront Corporation. All rights reserved.