How do I make a partial withdrawal from my account?
To withdraw some of the funds in your account, log in and select "Transfer Funds":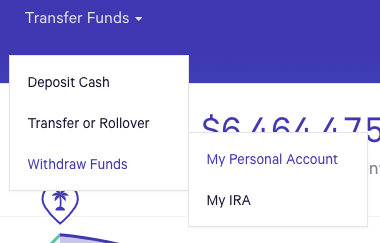 It will then ask you to select the account you want to withdraw from (if you have multiple accounts) and give you the option to make a partial withdrawal to the linked bank account you choose.
Please note that we have a $250 minimum withdrawal amount. 
Wealthfront prepared this article for informational purposes and not as an offer, recommendation, or solicitation to buy or sell any security. Wealthfront and its affiliates may rely on information from various sources we believe to be reliable (including clients and other third parties), but cannot guarantee its accuracy or completeness. See our Full Disclosure for more important information.
Wealthfront and its affiliates do not provide tax advice and investors are encouraged to consult with their personal tax advisor. Financial advisory and planning services are only provided to investors who become clients by way of a written agreement. All investing involves risk, including the possible loss of money you invest. Past performance does not guarantee future performance.