How do I enable two-factor verification for my account?
Two-factor verification is a security feature that makes your account more secure by requiring two methods of authentication each time you log in: your normal email and password login plus a security code that is either delivered to your mobile phone via text message or generated by a mobile authenticator app.
Enable two-factor verification
Log in to your Wealthfront account.
Click on Your name and then settings in the top menu
Click on Security on the left side of your screen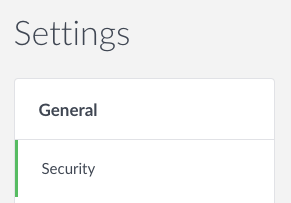 Scroll down to Two-factor verification card and select Enable two-factor verification:

Choose to obtain your verification code via text message or via an authenticator app: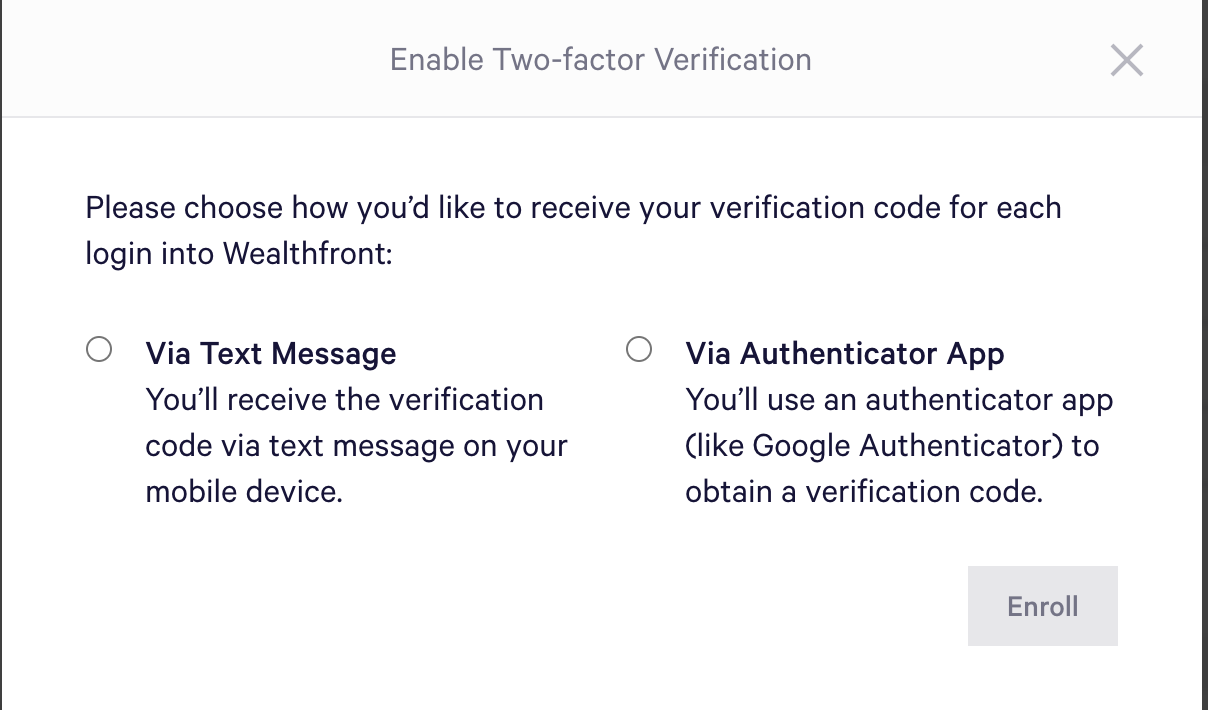 Instructions to get the code via text message:
You can choose to receive verification codes via text message on any mobile device with a United States-based phone number that is capable of receiving texts.
Enter the mobile number of the device you wish to enroll and click Send Code.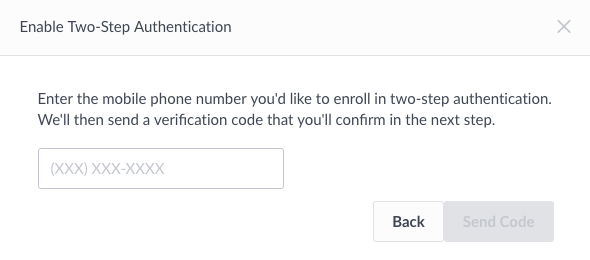 Wealthfront will then send a text message containing the verification code to that mobile number. Please note that it can take up to one minute for the text message to arrive, depending on your mobile carrier.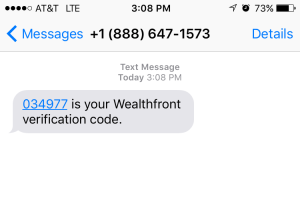 Enter the verification code from the text message at the prompt.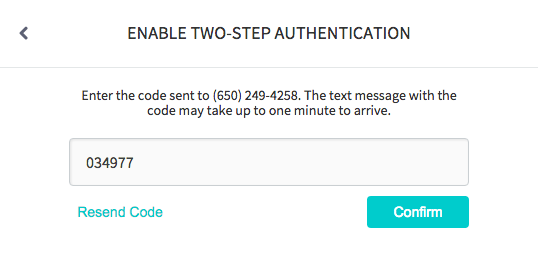 If the code has not arrived after one minute or if the code is not accepted, you can click Resend Code to try again.
After entering the code successfully, you will see an on-screen message, email and text message confirming your enrollment.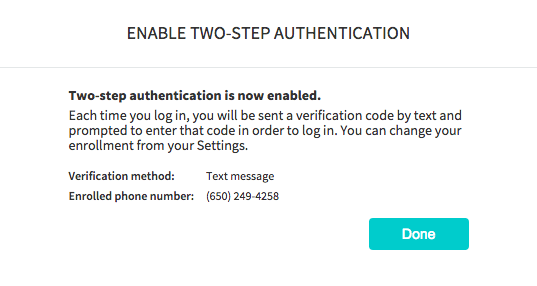 Instructions to get the code via an authenticator app
On the Apple App Store and Google Play Store, there are a variety of authenticator apps that you can use to generate verification codes for two-factor verification. In general, any authenticator app that supports Time-based One-Time Password (TOTP) protocol should work. Here are a few apps that we have verified are compatible:
Google Authenticator (Android or iPhone)
Duo Mobile (Android or iPhone)
Amazon AWS Virtual MFA (Android)
Authy (Android or iPhone)
To set up and use one of these apps:
While enrolling, select the option to "Get the code via an authenticator app."
Next, you will see a prompt including a barcode that will be used to register your Wealthfront account with your authenticator app. Open your authenticator app, select the option to "Set up/add account" (or similar), and scan the barcode when prompted by the app.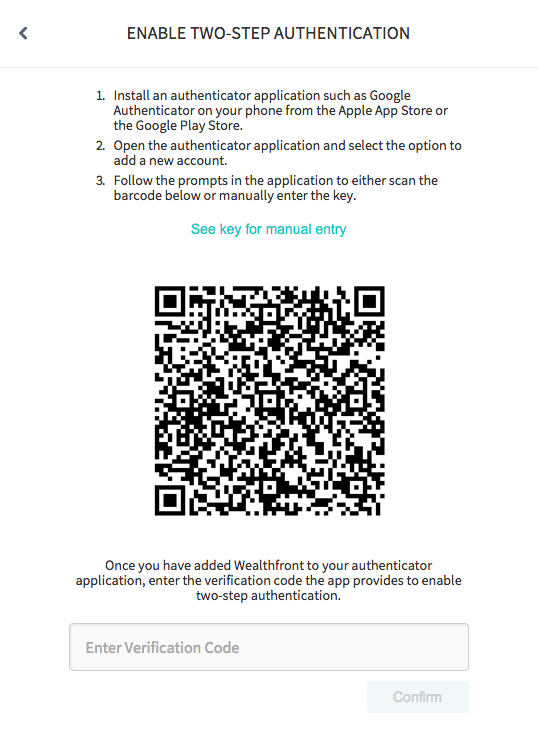 If your authenticator app does not support scanning a barcode or is unable to scan it, you can register the account manually by entering the key provided. Click "See key for manual entry" to reveal the key. Enter this key into your authenticator app when prompted.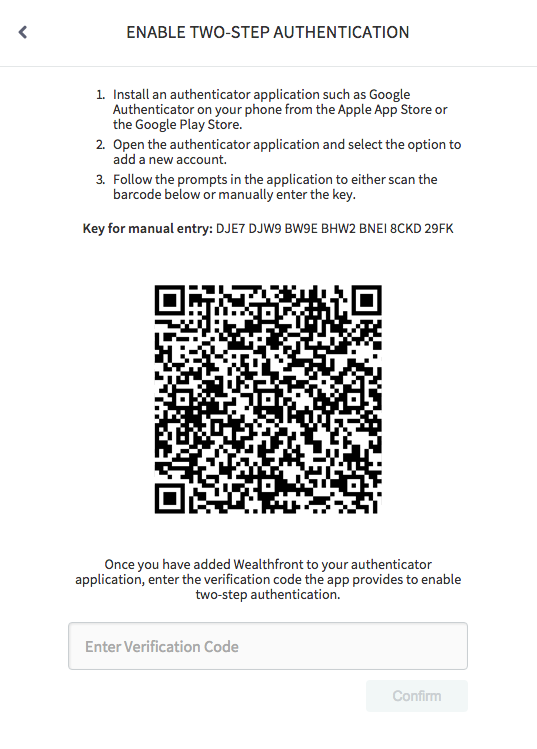 Once you have registered your Wealthfront account with your authenticator app, enter the verification code provided by the app to complete your enrollment.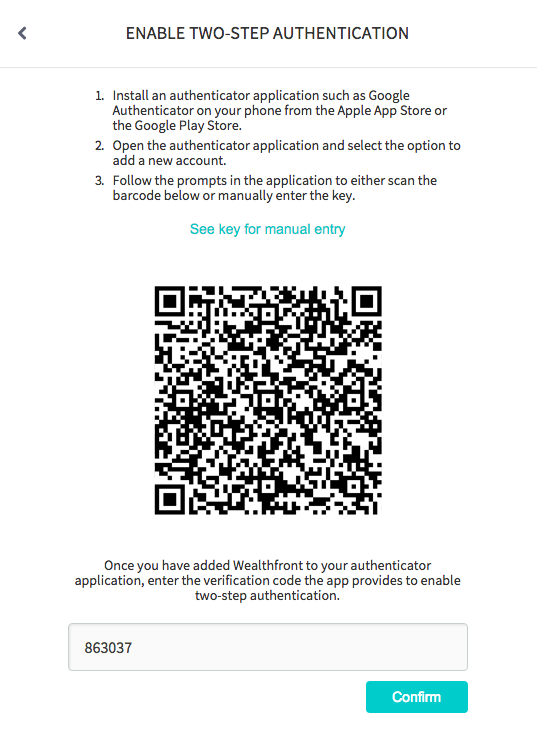 You will then see a message confirming your enrollment. You will also receive confirmation by email.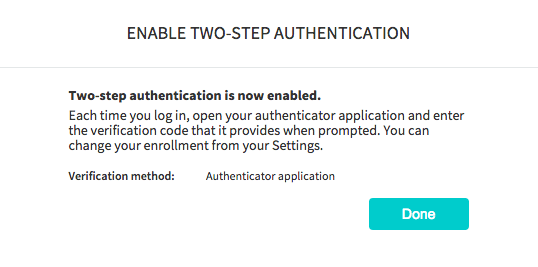 This communication has been prepared solely for informational purposes only. Nothing in this communication should be construed as an offer, recommendation, or solicitation to buy or sell any security or a financial product. Any links provided to other server sites are offered as a matter of convenience and are not intended to imply that Wealthfront or its affiliates endorses, sponsors, promotes and/or is affiliated with the owners of or participants in those sites, or endorses any information contained on those sites, unless expressly stated otherwise.
Wealthfront offers a free software-based financial advice engine that delivers automated financial planning tools to help users achieve better outcomes. Investment management and advisory services are provided by Wealthfront Advisers LLC, an SEC registered investment adviser, and brokerage related products are provided by Wealthfront Brokerage LLC, a member of FINRA/SIPC.
Wealthfront, Wealthfront Advisers and Wealthfront Brokerage are wholly owned subsidiaries of Wealthfront Corporation.
© 2020 Wealthfront Corporation. All rights reserved.