How do I enable two-step authentication for my account?
Two-step authentication is a security feature that makes your account more secure by requiring two methods of authentication each time you log in: your normal email and password login plus a security code that is either delivered to your mobile phone via text message or generated by a mobile authenticator app.
Enable two-step authentication
Log in to your Wealthfront account.
Click on Your name and then settings in the top menu
Click on Security on the left side of your screen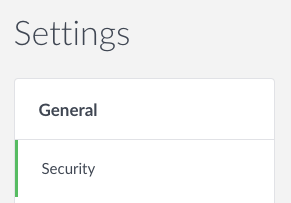 Scroll down to Two-Step Authentication card and select Enable Two-Step Authentication:
Choose to obtain your verification code via text message or via an authenticator app:
Instructions to get the code via text message:
You can choose to receive verification codes via text message on any mobile device with a United States-based phone number that is capable of receiving texts.
Enter the mobile number of the device you wish to enroll and click Send Code.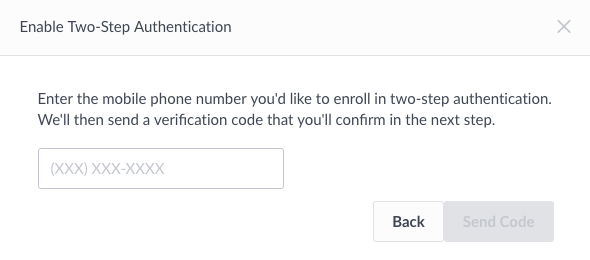 Wealthfront will then send a text message containing the verification code to that mobile number. Please note that it can take up to one minute for the text message to arrive, depending on your mobile carrier.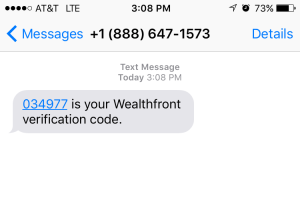 Enter the verification code from the text message at the prompt.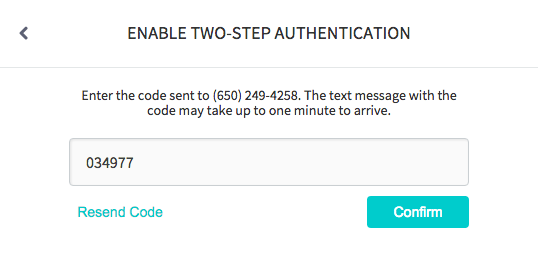 If the code has not arrived after one minute or if the code is not accepted, you can click Resend Code to try again.
After entering the code successfully, you will see an on-screen message, email and text message confirming your enrollment.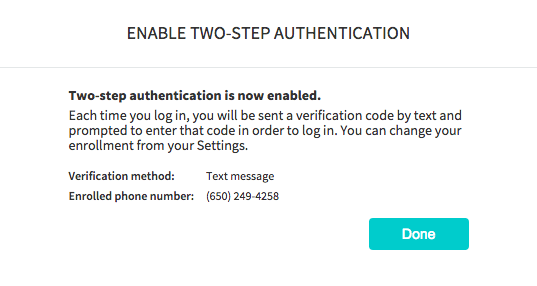 Instructions to get the code via an authenticator app
On the Apple App Store and Google Play Store, there are a variety of authenticator apps that you can use to generate verification codes for two-step authentication. In general, any authenticator app that supports Time-based One-Time Password (TOTP) protocol should work. Here are a few apps that we have verified are compatible:
Google Authenticator (Android or iPhone)
Duo Mobile (Android or iPhone)
Amazon AWS Virtual MFA (Android)
Authy (Android or iPhone)
To set up and use one of these apps:
While enrolling, select the option to "Get the code via an authenticator app."
Next, you will see a prompt including a barcode that will be used to register your Wealthfront account with your authenticator app. Open your authenticator app, select the option to "Set up/add account" (or similar), and scan the barcode when prompted by the app.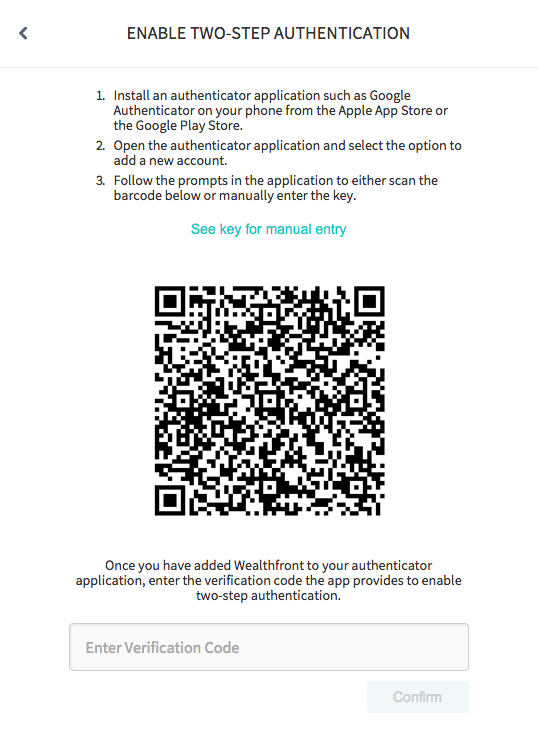 If your authenticator app does not support scanning a barcode or is unable to scan it, you can register the account manually by entering the key provided. Click "See key for manual entry" to reveal the key. Enter this key into your authenticator app when prompted.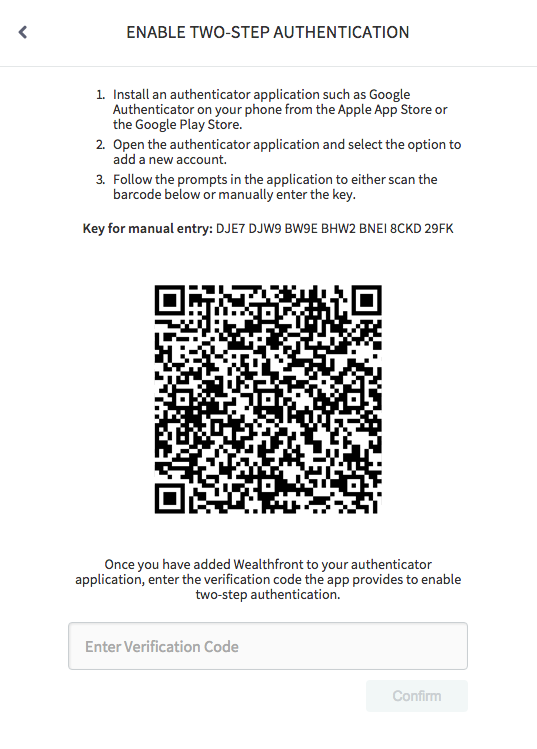 Once you have registered your Wealthfront account with your authenticator app, enter the verification code provided by the app to complete your enrollment.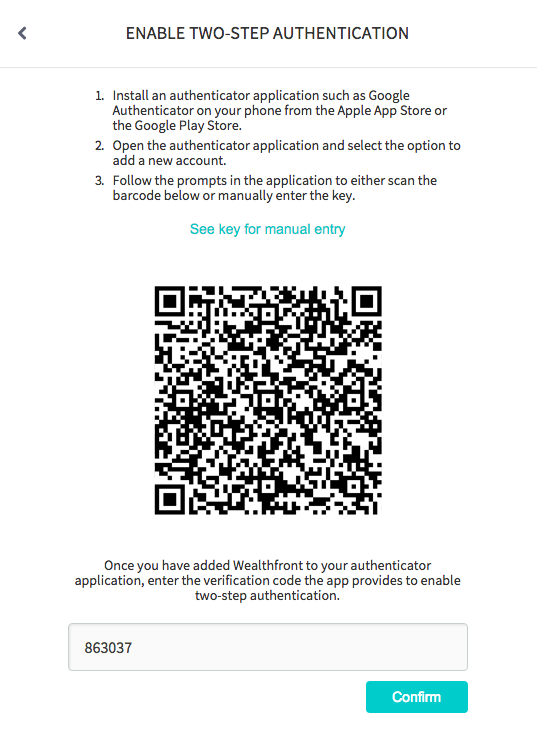 You will then see a message confirming your enrollment. You will also receive confirmation by email.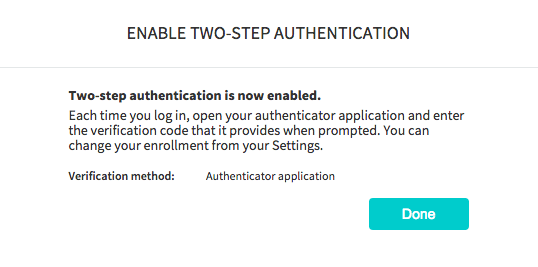 Wealthfront prepared this article for informational purposes and not as an offer, recommendation, or solicitation to buy or sell any security. Wealthfront and its affiliates may rely on information from various sources we believe to be reliable (including clients and other third parties), but cannot guarantee its accuracy or completeness. See our Full Disclosure for more important information.
Wealthfront and its affiliates do not provide tax advice and investors are encouraged to consult with their personal tax advisor. Financial advisory and planning services are only provided to investors who become clients by way of a written agreement. All investing involves risk, including the possible loss of money you invest. Past performance does not guarantee future performance.