How do I address "Foreign tax paid" and "Foreign income" in my tax return or tax software?
In the Dividends and Distributions section of your Form 1099, you may have a values in boxes 7 & 8: "Foreign tax paid" and the corresponding "Foreign country or US possession." These values represent foreign taxes that were paid as a result of dividends you received from ETFs like VEA or VWO, which hold a broad range of foreign securities representing many countries. As such, in most cases clients enter "Various" when prompted for the country to which the foreign tax was paid, unless they need to break down the taxes paid on a per-country basis (not common).
These foreign taxes paid may make you eligible for a foreign tax credit/deduction when you file your tax return. Details for each dividend received can be found in the Dividend & Distribution Details section towards the end of your Form 1099. Your tax preparer or tax software should be able to provide additional guidance on this topic.
If your tax software asks for foreign income/foreign source amount, you can get this information from your 1099.
You have to sum the "Total Dividends & distributions" amounts that had any foreign taxes withheld under the Detail for Dividends and Distributions section of your 1099. 
For example, here is a screenshot from part of a hypothetical 1099 from Wealthfront Brokerage Corporation. In this case, the "foreign income/foreign source amount" is $82.52.  This is determined by added the $70.54 to the $11.98 because each of those numbers has a line item titled "Total Foreign tax withheld" line item.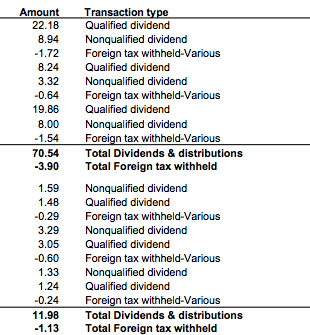 Wealthfront prepared this article for informational purposes and not as an offer, recommendation, or solicitation to buy or sell any security. Wealthfront and its affiliates may rely on information from various sources we believe to be reliable (including clients and other third parties), but cannot guarantee its accuracy or completeness. See our Full Disclosure for more important information.
Wealthfront and its affiliates do not provide tax advice and investors are encouraged to consult with their personal tax advisor. Financial advisory and planning services are only provided to investors who become clients by way of a written agreement. All investing involves risk, including the possible loss of money you invest. Past performance does not guarantee future performance.