How much should I save for college?
Each family makes a personal decision about how much of their child's education to fund; they may save enough to fund a portion of college expenses (with the remainder covered by financial aid and student income) or they may intend on covering the entire cost of education. When developing a savings plan, there are several important factors to keep in mind:
The cost of college education has historically increased significantly more than inflation over the past years and we project that trend to continue. Based on data from the College Board, Wealthfront estimates college costs will continue increasing at a rate of 4.2% per year over the foreseeable future. That means that an expensive private college that costs $65,000 per year in 2016 is projected to cost more than double that amount - approximately $136,000 per year - in 18 years.
The earlier a family starts saving and the more they contribute, the more they typically benefit from a 529 account's tax-free compound growth. A substantial initial contribution and regular, recurring deposits can increase the benefit of a 529 account. For families that have sufficient resources, they may consider funding multiple year's worth of tax-exempt gifts using a special 529 account feature that permits so-called "superfunding". Using this approach, two parents can contribute up to $140,000 per child using the maximum 5 years' worth of exempt gifts ($14,000 annual gift tax exclusion X 2 parents X 5 years).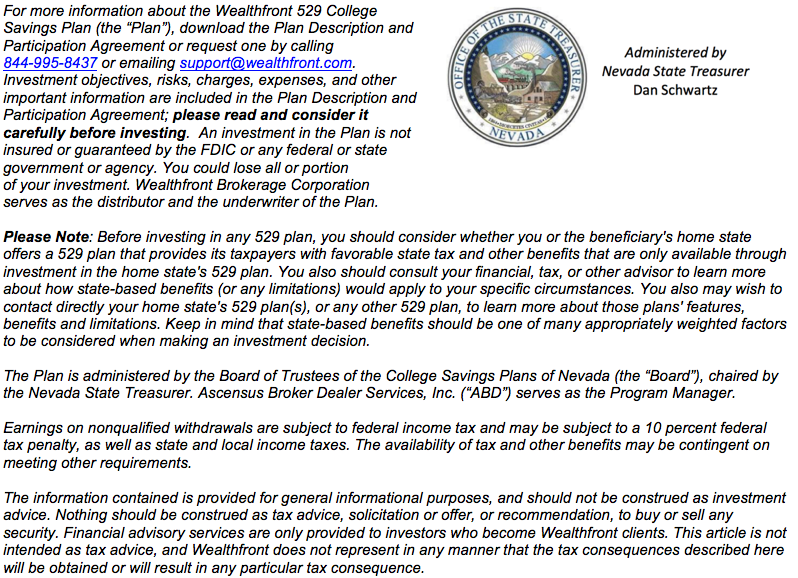 Nothing in this blog should be construed as tax advice, a solicitation or offer, or recommendation, to buy or sell any security. Financial advisory services are only provided to investors who become Wealthfront Inc. clients pursuant to a written agreement, which investors are urged to read carefully, that is available at www.wealthfront.com. All securities involve risk and may result in some loss. For more information please visit www.wealthfront.com or see our Full Disclosure. While the data Wealthfront uses from third parties is believed to be reliable, Wealthfront does not guarantee the accuracy of the information.