How can I contribute to my Wealthfront 529 Plan account?
There are several ways you can contribute to your account:
A one-time contribution by electronic bank transfer (ACH) from your checking or savings account.
A recurring contribution by electronic transfer from your checking or savings account (e.g., a regularly-scheduled monthly contribution).
An indirect rollover (liquidating and reinvesting assets) from another 529 plan. To avoid treatment of the indirect rollover as a non-qualified withdrawal, which may incur penalties and state and federal taxes, you must reinvest assets within 60 days of the liquidation and you can only make such indirect rollovers once every 12 months.
A plan transfer from another Nevada-sponsored 529 college savings plan for a new beneficiary. You can make such transfers without incurring federal income tax or penalties if the new beneficiary is an eligible member of the family of the original beneficiary.
A plan transfer from another Nevada-sponsored 529 college savings plan for the same beneficiary. You may be able to treat such transfer as a nontaxable investment reallocation allowable up to two times per calendar year.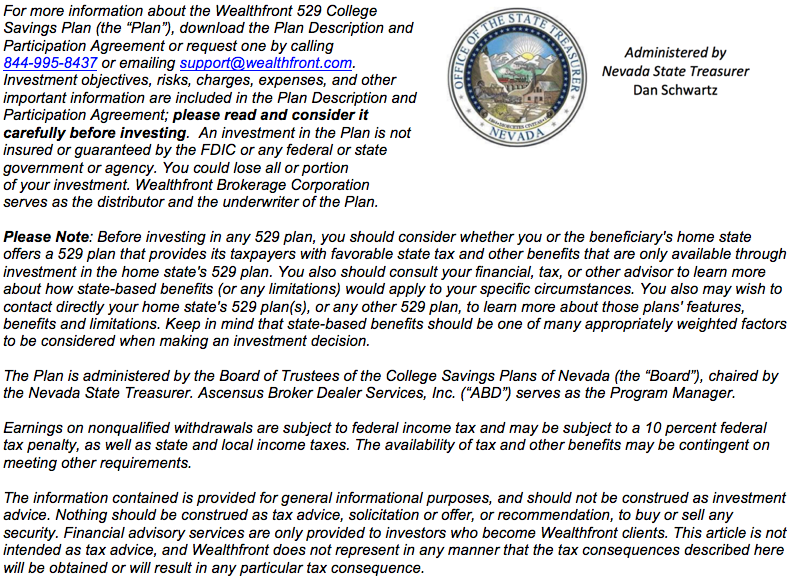 Nothing in this blog should be construed as tax advice, a solicitation or offer, or recommendation, to buy or sell any security. Financial advisory services are only provided to investors who become Wealthfront Inc. clients pursuant to a written agreement, which investors are urged to read carefully, that is available at www.wealthfront.com. All securities involve risk and may result in some loss. For more information please visit www.wealthfront.com or see our Full Disclosure. While the data Wealthfront uses from third parties is believed to be reliable, Wealthfront does not guarantee the accuracy of the information.