What if the 529 beneficiary decides not to go to college?
If the beneficiary decides not to go to college, account owners have three options:
Change the beneficiary on the account. An account owner can change the beneficiary at any time to another eligible member of the family of the beneficiary.
Stay invested. College savings can continue to grow tax-free and be used in the event that the beneficiary starts college at a later date.
Withdraw the money if it needs to be used for reasons other than paying for college expenses. If the withdrawal is not used for qualified higher education expenses, account earnings are subject to federal and state income taxes and are also typically subject to an additional 10% penalty tax. This penalty is waived if the beneficiary:
Dies (if the withdrawal is paid to the beneficiary's estate);
Becomes disabled;
Receives a scholarship, so long as the withdrawal amount does not exceed the scholarship amount;
Attends a United States Military Academy, the United States Naval Academy, the United States Air Force Academy, the United States Coast Guard Academy, or the United States Merchant Marine Academy, so long as the amount of the withdrawal does not exceed the cost of education at the relevant institution; or
Used the funds from the withdrawal to claim certain education credits.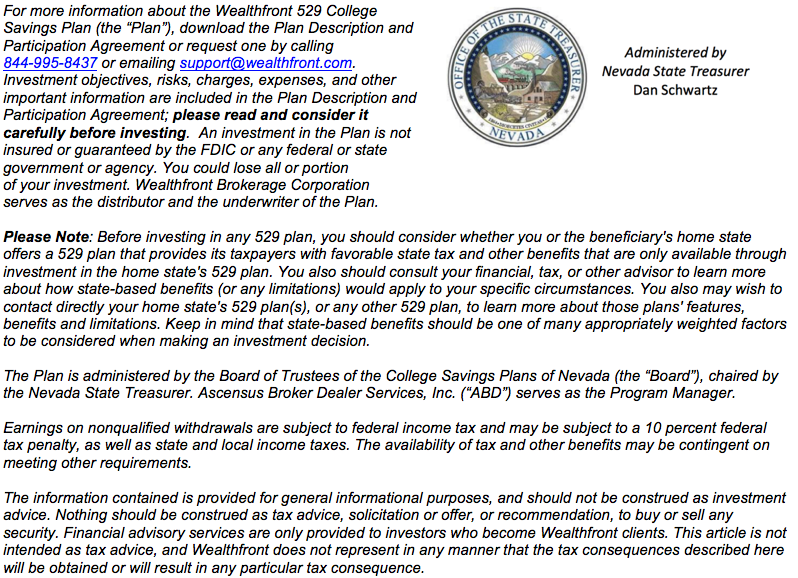 Nothing in this blog should be construed as tax advice, a solicitation or offer, or recommendation, to buy or sell any security. Financial advisory services are only provided to investors who become Wealthfront Inc. clients pursuant to a written agreement, which investors are urged to read carefully, that is available at www.wealthfront.com. All securities involve risk and may result in some loss. For more information please visit www.wealthfront.com or see our Full Disclosure. While the data Wealthfront uses from third parties is believed to be reliable, Wealthfront does not guarantee the accuracy of the information.