Which account type should I open to complete my 401k rollover?
Most plans we see are Traditional 401(k) plans, which means you must roll over into a Traditional IRA. However, if your plan is a Designated Roth Account (like a Roth 401(k)), you must roll over into a Roth IRA. Lastly, some plans actually allow you contribute both Roth and Traditional funds. In that case, you'll need to open both a Roth IRA and a Traditional IRA account. If you are not sure, just remember that Traditional plans allow you to invest pre-tax dollars, whereas with Roth plans you must invest post-tax dollars. In both cases your account must meet our $500 minimum.
See the below chart for more details about where you should "roll to" depending on where you are rolling from.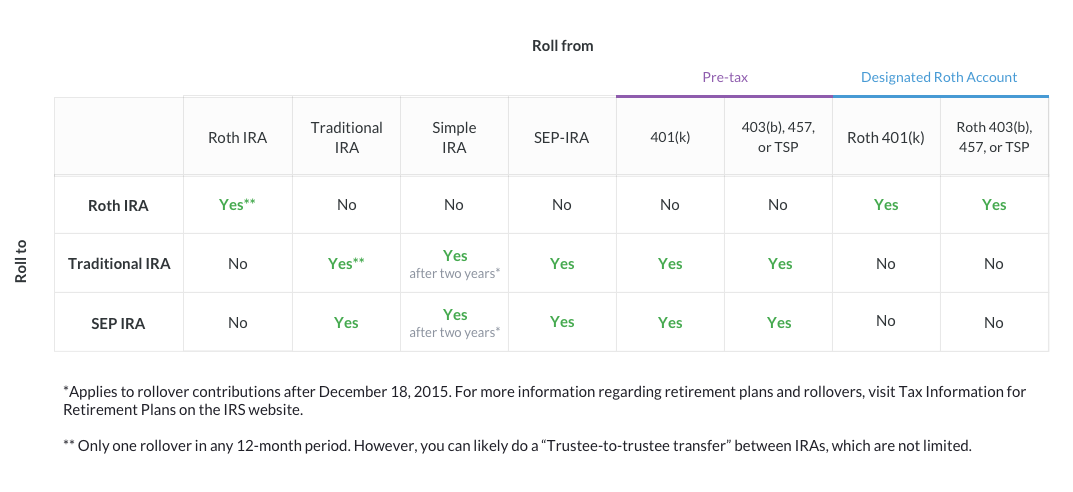 Note: This chart has been adapted from the IRS Rollover Chart and modified Wealthfront-specific account support. Source:https://www.irs.gov/pub/irs-tege/rollover_chart.pdf
Please see the IRS website for more information
Nothing in this blog should be construed as tax advice, a solicitation or offer, or recommendation, to buy or sell any security. Financial advisory services are only provided to investors who become Wealthfront Inc. clients pursuant to a written agreement, which investors are urged to read carefully, that is available at www.wealthfront.com. All securities involve risk and may result in some loss. For more information please visit www.wealthfront.com or see our Full Disclosure. While the data Wealthfront uses from third parties is believed to be reliable, Wealthfront does not guarantee the accuracy of the information.
This article is not intended as tax advice, and Wealthfront does not represent in any manner that the outcomes described herein will result in any particular tax consequence. Prospective investors should confer with their personal tax advisors regarding the tax consequences based on their particular circumstances. Wealthfront assumes no responsibility for the tax consequences to any investor of any transaction. Investors and their personal tax advisors are responsible for how the transactions in an account are reported to the IRS or any other taxing authority.