How did Wealthfront recommend my 529 investment plan and glide path?
We use your answers to our risk questionnaire to recommend an investment plan for your 529 account.  Our 529 investment questionnaire evaluates your:
Subjective willingness to take risk.
Consistency in your responses to subjective risk assessment questions.
Objective ability to take risk based on your projected resources to fund college expenses compared to the projected cost of education (for all children, where relevant).
Desired type of higher education institution (e.g. public/private, 2- or 4-year institution) for your beneficiary.
Using this data, we compute a risk score and use it to recommend an optimal investment plan with an appropriate level of risk and return by using an appropriate glide path.
Your glide path helps determine the overall risk and return of your portfolio. It is defined using three parameters: the risk level of its starting portfolio, the risk level of its final portfolio and the timing to transition from the initial portfolio, through some number of intermediate-risk portfolios to the final portfolio. In general, higher risk glide paths will have both higher-risk initial and final portfolios. They will also start their transition later in the investment horizon.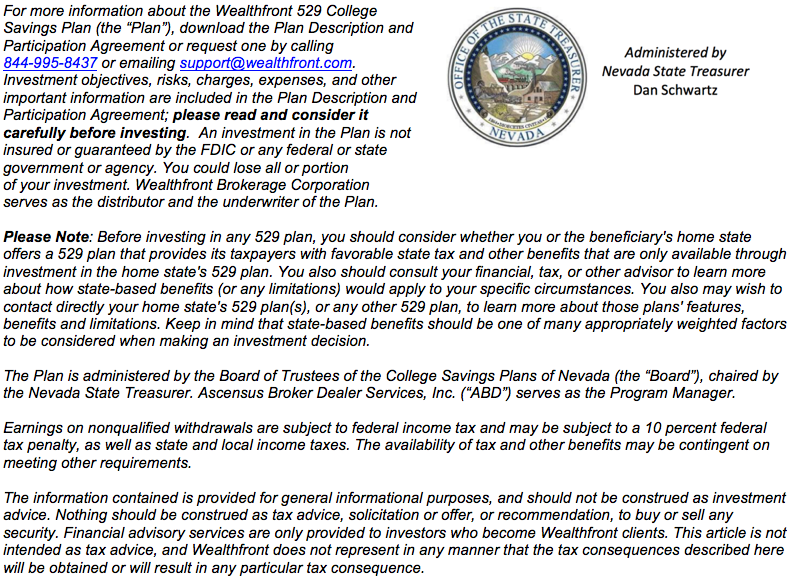 Nothing in this blog should be construed as tax advice, a solicitation or offer, or recommendation, to buy or sell any security. Financial advisory services are only provided to investors who become Wealthfront Inc. clients pursuant to a written agreement, which investors are urged to read carefully, that is available at www.wealthfront.com. All securities involve risk and may result in some loss. For more information please visit www.wealthfront.com or see our Full Disclosure. While the data Wealthfront uses from third parties is believed to be reliable, Wealthfront does not guarantee the accuracy of the information.