Can I change the beneficiary of my 529 account? Who is eligible to be a new beneficiary?
You can change the beneficiary without adverse federal income tax consequences, as long as the new beneficiary is an eligible member of the family of the current beneficiary. In addition, the proposed IRS regulations provide that no federal gift tax or generation-skipping transfer tax will result, as long as the new beneficiary is of the same generation as the current beneficiary. Any change of the beneficiary to a person who is not an eligible member of the family of the current beneficiary is treated as a non-qualified withdrawal subject to applicable federal and state income taxes, as well as the additional 10% federal tax on earnings.
Eligible members of the family include the beneficiary's:
Natural or legally adopted children
Parents or ancestors of parents
Siblings or stepsiblings
Stepchildren
Stepparents
Nieces or nephews
Aunts or uncles
The spouse of any of the individuals listed above
The spouse of the beneficiary
First cousins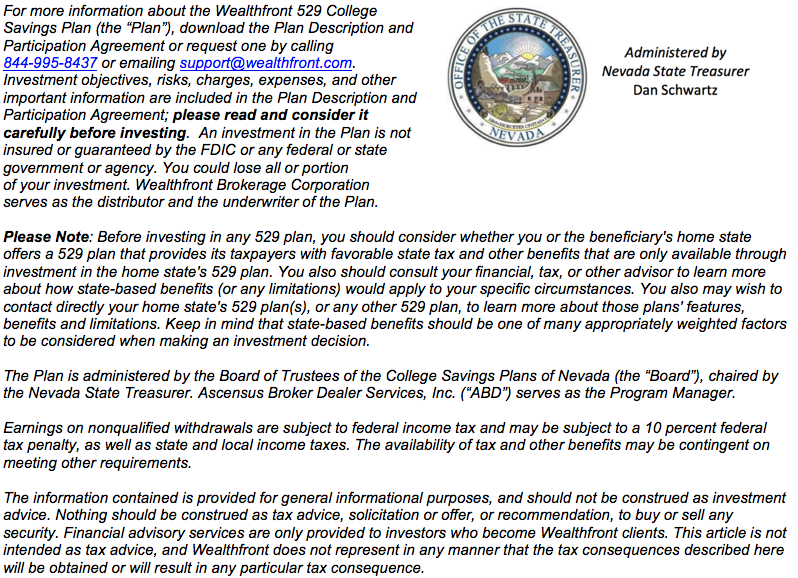 Nothing in this blog should be construed as tax advice, a solicitation or offer, or recommendation, to buy or sell any security. Financial advisory services are only provided to investors who become Wealthfront Inc. clients pursuant to a written agreement, which investors are urged to read carefully, that is available at www.wealthfront.com. All securities involve risk and may result in some loss. For more information please visit www.wealthfront.com or see our Full Disclosure. While the data Wealthfront uses from third parties is believed to be reliable, Wealthfront does not guarantee the accuracy of the information.